Good News! Star-Net ranks Among the Top 100 Listed Companies in China Communications
---
Recently, the 7th "Performance List of China's 100 Listed Communication Companies" monitored by the whole media of "Communications Industry News" was scheduled. Starnet Ruijie ranked 17th on the list with 2022 annual revenue of 15.741 billion yuan and a good momentum of year-on-year growth in both revenue and profit.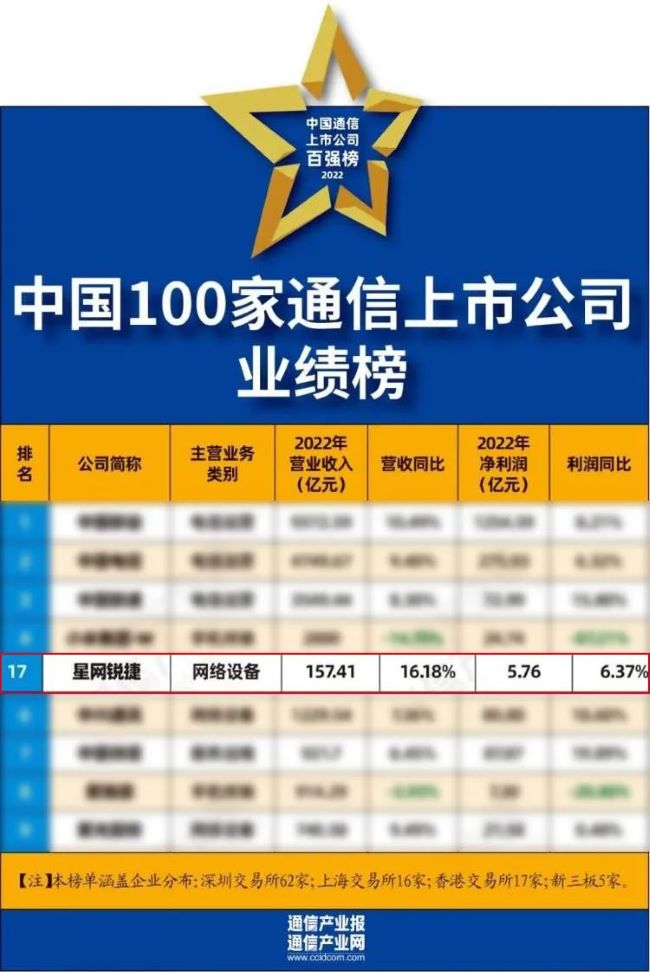 "Communications Industry News" is supervised by the Ministry of Industry and Information Industry and sponsored by China Electronics and Information Industry Development Research Institute. It is one of the earliest newspapers in the communications industry in China and one of the few leading professional media in the communications industry. The top 100 list is a barometer of the development of the communications industry. Among the 100 listed communication companies listed this year, they cover 9 categories including telecom operations, service operation and maintenance, network equipment, optical communications, wireless communications, software services, network services, mobile terminals, chips and cards. Starnet Ruijie has outstanding performance in the network equipment enterprise category, and its business performance is good.
Starnet Ruijie continues to strengthen its innovation investment in new technology applications represented by optical communications, artificial intelligence, big data, and cloud computing and adheres to an innovation-driven development strategy, achieving steady and innovative development in 2022. In 2023, Starnet Ruijie will focus on digital infrastructure represented by optical communications, and AI application solutions represented by Metaverse and Xinchuang, while deepening product value, accelerating the layout of new markets and new applications, and driving The company's performance is growing rapidly and steadily.